Eggsplosion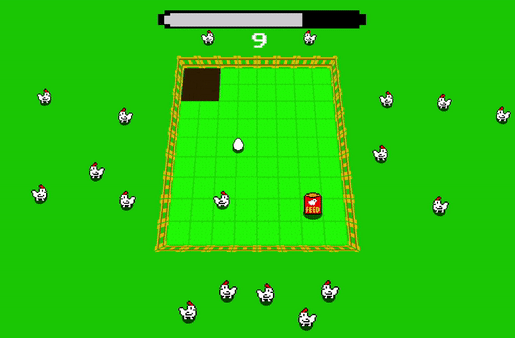 Eggsplosion is an infinite score chaser

Collect grain for points....
Lay explosive eggs to reset the timer above or you will explode....
Like what you see ? ;)

Controls ( PC and Web ) :
- Arrow keys to move
- Space to lay an egg
Controls ( Android ):
- Move your finger on the screen to move the chicken
- Tap the screen to lay an egg
Comments
Log in with itch.io to leave a comment.
All I'm wondering is wtf is in that food
I feel like this could turn into a spleef local multiplayer game
Nice. My top score was 32.
Might I suggest rewarding the player with some sort of visual depiction of progress such as changing the color of the map after every score of 10.


Very engaging mechanics! I lost interest after a few rounds, so work on a level system or items or something else to reward the player! Great gameplay though, I started immediately to figure out some strategies to live as long as possible!
Thanks for trying it :)
It was mainly just supposed to be a small flappy-birdy arcade game to test this kind of perspective. Don't know if I'll add more to it though lol.
Thanks for playing either way
I really love this concept. great work!